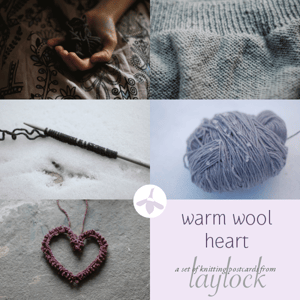 £

5.00 - On Sale
This delightful set of 5 postcards will warm any knitter's heart. Closely-knit in theme and colour, they portray those cosy winter evenings of knitting for loved ones.
They are perfect for many small notes; maybe a quick, 'I'm still working on it!' or a 'Hope you're practicing your purls!' or just a simple 'I Love You'.
Printed crisp and clear, they can be sent as part of knitswaps, as greetings to family, or if you can't bear to part with them, hung up on your wall.
The set includes 5 postcards : SMALL OFFERING, WINTER WAVES, DOUBLE DECREASE, WRAP UP, and LIVE.
Read the story behind these cards, or view them on Flickr.